Zahntechnik plus, impressions from Leipzig
– a recap by Tobias Holland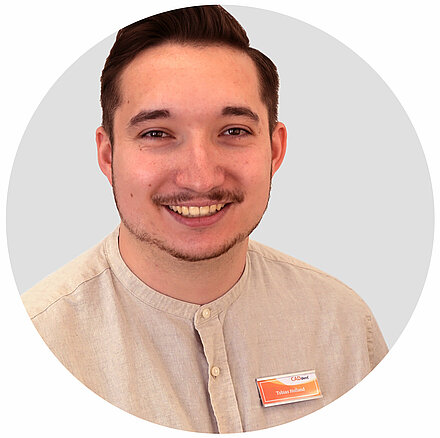 "For weeks we looked forward to it and we have to admit that there were also phases in which we were not quite sure, whether the fair could actually take place. Therefore, the joy was even bigger when it became clear: CADdent was actually represented in Leipzig on March 25th and 26th, 2022 - at Zahntechnik plus dental fair.

The weather was good and my colleague Benjamin Lauer and I were in a more than positive mood. We also noticed similar vibes among the trade fair visitors. Finally making contacts again, networking again, having personal conversations and experiencing innovations and new technologies live - finally trade fairs again!"
Figures, Data, Facts about the premiere of Zahntechnik plus in Leipzig
In addition to the topic worlds on current issues of "Innovative technologies", "Future of corporate succession" and "Evidence in practice",
the focus was on the expertise congress "What moves us - two days of state-of-the-art dental technology training".

In his opening speech, Dominik Kruchen, President of the Association of German Dental Technicians (VDZI), described the industry get-together as a solution market.

With the keyword solution market and with so many promising topics, it was clear that we at CADdent should not be missing with our innovative product, material and service portfolio. So it came about that we presented our digital partial framework (RPD) and the post-processing using the DLyte polishing machine to the estimated 1,100 participants from all over Germany at the around 1,000 square meter theme-focused exhibition.

Incidentally, only about 500 visitors were registered. Zahntechnik plus was also open to last-minute visitors. We especially appreciated this kind of flexibility in the current situation.
These topics were the focus at Zahntechnik plus
The focus of the fair was clearly on the topic of innovations, making everyday work easier, digitization and how all of this can be combined. From work preparation with the help of intraoral scanners, to designs with e.g. the common scanner and CAD systems from 3Shape and Exocad, to the post-process, in which polishing machines can be used, for example.

But the use of materials in milling technology was also discussed, so that some visitors who were interested in FAB Zirconia, FAB Cobalt-Chrome, FAB Titanium or FAB Polymer were drawn to our stand.

Most of the interested parties and customers who came to me and my colleague Benjamin Lauer at the stand wanted to know more about digital partial denture technology and finishing work using the polishing machine.

This fact shows us once again that we, as experts in the field of LaserMelting and in particular in the technology of digital partial frameworks (RPD), have met the ravages of time. Because it is precisely in this discipline that there is a lack of specialists and laboratory owners are looking for new possibilities which lead to more efficiency and added value in the laboratory.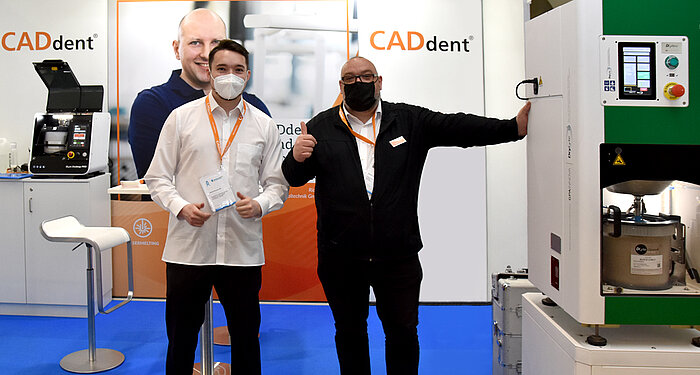 MY CONCLUSIONS OF THE VISIT TO ZAHNTECHNIK PLUS
We were able to make many contacts, provide our CADdent colleagues with impulses for the further development of technologies and innovations and finally had the opportunity to talk (personally) with our customers again. Benjamin Lauer, with his incomparably charming manner, was able - forgive me for the frivolous words - to bring a sparkle in the eyes of one or the other interested party when he turned the polishing machine on.

The quality of our partial frameworks (RPD) had already convinced many customers beforehand, but the combination of high-quality partial frameworks (RPD) and the polishing results of the DLyte polishing machine inspired them.

We are already looking forward to the next trade fair, maybe together with you? Make a note of the ADT in Nürtigen from June 16th to 18th, 2022. We look forward to meeting you!